A Nigerian man popularly referred to by his social media moniker @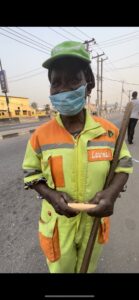 , surprises road sanitation workers with cash gifts of 15,000 naira each.
The recipients were going about their road sweeping duties when the Nigerian Santa approached them with his envelopes of happiness.
The sanitation workers were overjoyed. They stated that they had no plans for Christmas due to a delay in salary payments.
The recipients were super excited as the gesture will go a long way in settling their needs this festive season.
The giver has vowed to visit other areas with more envelopes of happiness, in a bid to share the joys of the Christmas season.
Envelopes of happiness
There were mixed reactions on social media. While a vast majority applauded the gesture, a few suggested that the giver should have left his camera at home.