115 participants were issued certificates after the just concluded, three weeks digital marketing training at the college of education ICT Centre, Warri south local government.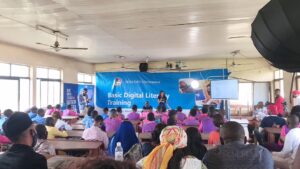 The program was sponsored by the Delta State government in collaboration with Tech 4 Dev and the UKaid. Over 350 participants were trained across the states in three locations; Warri, Ughelli and Asaba.
The real saga team covering the occasion spoke to some of the participants present at the Warri digital marketing training. They expressed their joy stating that the training was unlike others they had attended due to the teaching style, commitment of the Tech 4 Dev facilitators, and the incorporation of practical works into the training.
The participants expressed gratitude to the Delta State Government, Tech 4 Dev, and the UKaid. They also pleaded to be supplied with a laptop or tablet to enable them to do better with the skills learned. Some Participants testified that they are already applying the knowledge gained to their businesses, as they now understand the need to incorporate digital marketing into their business models.

While addressing the graduating class, Tech for Dev project lead Blessing Ashi stated that Tech 4 Dev in partnership with the UKaid is committed to training people on tech skills, and the program has been on-going in different parts of the country. She also assured the public that with the corporation of the Delta State Government, there would be more trainings in the near future. Blessing encouraged the participants to apply all they have been taught to better their livelihood. She also encouraged them to take advantage of the free training on the Tech 4 Dev website to improve their skills, announcing that there are many free courses on the tech 4 Dev website where participants can win cash prices and gadgets for excellent performance.
The director of the College of Education ICT center, Dr. Ufuoma while congratulating the graduating participants ensured them of his continued support to their growth on behalf of the state government, by making sure that they are able to access computers and the internet at the center for free when necessary.